Ajouter à mon PDF personnalisé
OMG Cyber!: Thirteen Reasons Why Hype Makes for Bad Policy
Cybersecurity is a high priority issue. It has generated a lot of interest and activity that sometimes inflates the real situation. Some of the current discussion about cybersecurity does not accurately represent the threats or solutions, and this misrepresentation can do damage.
Lee and Rid present the case for exercising restraint when representing cybersecurity. The article elaborates thirteen reasons why `hype` about cyber is a barrier to achieving true security, shown below.
The hype about cyber can lead to specific complications. Inaccurate understandings of cyber contribute to unnecessary confusion about true risks. This negatively affects decision-makers trying to understand threats, measure responses, and evaluate performance. It also hinders experts tasked with doing highly skilled and technical tasks, while working in teams with non-experts. Further, cyber hype complicates the task of public consumers seeking to understand risk, choose tools for protection, and – ultimately – hold governments to account.
Misunderstandings about cyber are counterproductive to achieving real security. In the quest for more informed and informative debate, hype should be deflated by ensuring:
Senior officials in cybersecurity should hold basic technical knowledge,
Military value personnel with hands-on experience,
Press ensure journalistic accuracy, specialist writers and editors, and
Scholars communicate clearly, across disciplines.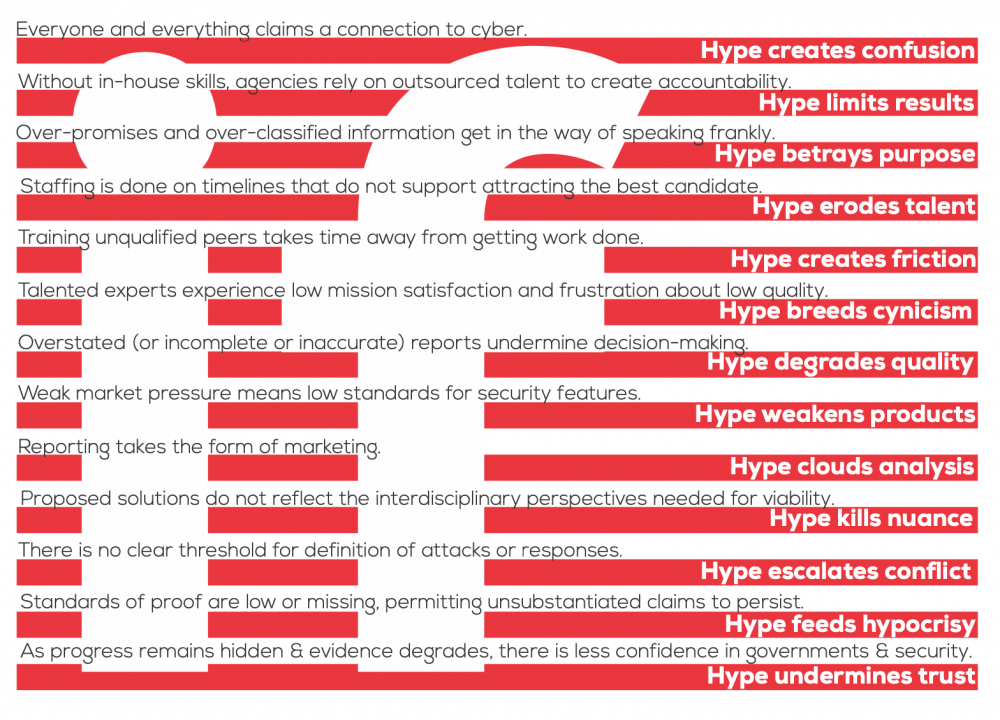 Hype around cyber brings problems caused by simultaneously under-informing and over-pressurising decision-makers.