Digests
The SERENE-RISC Digest is a distillation of research related to the securing and strengthening of Canadian cyberspace. It provides an update on academic research that can be understood at a glance, a skim or a quick read depending on your need.
The SERENE-RISC Digest provides answers to questions provided by the latest research. These answers are expanded in briefs that can be understood in 2 minutes. A '1-pager' summary for each article follows to provide greater detail on the research and its outcomes. Each of these pages finishes with a very short take away message.
This document is provided quarterly to SERENE-RISC members electronically (in PDF). Please fill out the membership application, if you have not already done so, to be a part of the membership group and receive this document on a regular basis to stay up to date on the latest cybersecurity research in Canada and around the world.


Archives
Click on the picture to access the PDF version of the selected Digest. PDF documents appear from the newest to the oldest.

Volume 3
Issue 2 Issue 1
Volume 2
Issue 4 Issue 3 Issue 2 Issue 1

Volume 1
Spring 2017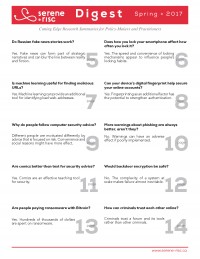 Autumn 2016 Summer 2016 Spring 2016
Autumn 2015 Summer 2015 Spring 2015
Winter 2014 Autumn 2014