Record participation for the Fall 2016 Workshop
After hosting the Spring 2016 Workshop in Vancouver, SERENE-RISC was back in Ottawa on October 26 and 27 with another dynamic workshop.
A record attendance of more than 140 participants, including academics, representatives from the private and public sectors as well as graduate students, gathered to hear about and discuss the latest cybersecurity research and the intergovernmental dimensions of cybersecurity in Canada.
The Network was delighted by the engagement of the attendees and the quality of both the speakers' presentations and the participants' engagement.
Thank you to all the participants, speakers, moderators and volunteers, as well as Gold sponsor Thales, Showcase sponsor NRC-IRAP, collaborators IIGR and CIGI as well as Workshop Chair, Christian Leuprecht, for making the Fall 2016 Workshop such a success.


SME Showcase and Poster Session
In collaboration with the National Research Council Industrial Research Assistance Program (NRC-IRAP) SERENE-RISC showcased students and SMEs during Wednesday's breaks. Participants had the opportunity to meet with representatives from GoSecure, Delve Labs, Interset, ISARA and Red Canari.
They also benefited from graduate student presentations on upcoming research including the following:
Saghar Behrooz – UOIT
Privacy-enhanced Mobile Devices
Steven Ding – McGill University
Kam1n0: simplifying reverse engineering of software for security analysis
Julie Delle Donne – Université de Montréal
"Let me check it online first": how law enforcement agencies are adopting social media in their work
Kalpana Hundlani – Carleton University
A Parent – Child Password Manager
Danish Sattar – Carleton University
Using Software-Defined Networking to Support Security Functions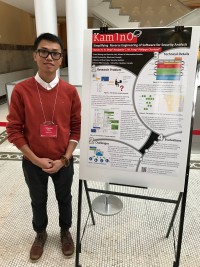 Congratulations to the Best Poster Award winner, Steven Ding from McGill University. Workshop attendees each cast a ballot voting for their preferred poster. As a result, Steven received a $200 scholarship from SERENE-RISC.