Add to my custom PDF
The Effectiveness of an Intervention to Promote Awareness and Reduce Online Risk Behavior in Early Adolescence
In several European countries the average age at which children start to use the Internet is currently 7-8 years of age; and that age is decreasing. Unfortunately, young children are not aware of the risks they face online. These risks include cyberbullying; the disclosure of personally identifying information; unadulterated exposure to porn, violence, or racism; the abuse of personal information; and spam. The need for online safety is well understood by parents and teachers. This is due to awareness campaigns promoted by local governments and the European Union. Studies have shown that interventions are helpful in raising awareness among youngsters and positively affecting their behaviour. However, there has been a lack of research into the effectiveness of education programs in schools.
This work examines whether school-based interventions are effective in raising online risk awareness and influencing risky behaviour. Schilder, Brusselaers, and Bogaerts conducted a study to measure online risk behaviour and another on online risk awareness. The online risk behaviour study was to know how children act online and whether their behaviour is considered as risky. Some examples of risky behaviours include: meeting strangers; sharing private sensitive information on public profiles; having email addresses or using the Internet without their parent's knowledge; falsifying their identify, or hiding age or gender. The online risk awareness study examined the understanding of the children regarding their safety online. This includes whether the children are aware of the danger of talking with strangers, opening an unknown e-mail attachment, using public social network sites and other risky activities.
The researchers presented awareness materials to students and tested the effectiveness of this approach. They divided 812 Belgians aged between 9 and 11 into two groups. One group was provided with a 10-minute online risk awareness presentation. The other group was provided a 10-minute class on topics not related to online risk. After the presentations, they were surveyed to measure both 'Online Risk Behaviour' and 'Online Risk Awareness.' After 4 months, they were assessed again in the same way. The results of this study are limited by the data collected from the young students not being validated in any way.
The results showed that the short interventions helped to raise the children's online safety knowledge. However, the students reported riskier behaviour after the interventions. This could be because they previously did not know the difference between risky and safe behaviour. After learning about online safety they were more aware of their risky behaviours and thus reported it more. The study also showed that boys and older children were more likely to behave riskily online.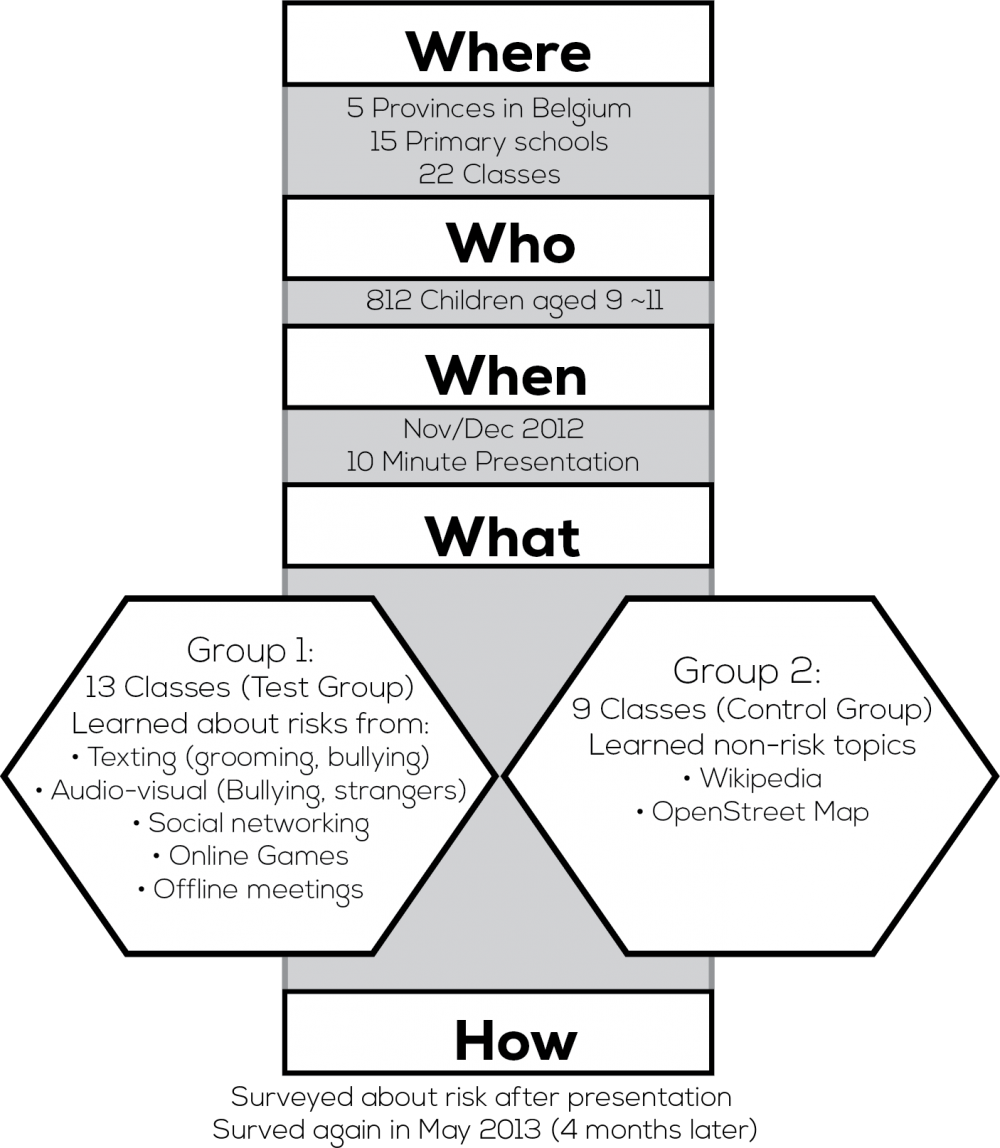 Short educational presentations about online risks influences children's long-term understanding and attitudes towards safe online behaviours.